21-7-2020
What? 14 degrees?! This can't be summer, there must be a mistake!
But hey, this is The Netherlands, so yeah… unfortunately this comes with the package 😉
But even if it's not really warm, other things will make you realize that this is indeed summer, for example the fact that you can register for a new (intensive or regular) summer course at Taalhuis. You can make conversation with other students sitting at a table outside of our location in Muiderstraat while enjoying a fresh beer, sometimes even at the park, or if it's bad weather you can join online with a warm cup of tea in your hands. And which language will you study and who will be your teacher?
A couple of weeks ago we started introducing you to some of the Italian teachers in the Taalhuis family. But at Taalhuis we speak a lot of languages, not only Italian, and right now a lot of our teachers from all over the world are busy giving classes to very motivated students who want to learn Dutch, Spanish, French, Arabic, Greek and other Mediterranean languages. So, here we go again. Ready to get to know another Taalhuis teacher? Today we 'go Dutch' and meet our super enthusiastic and creative Elianne!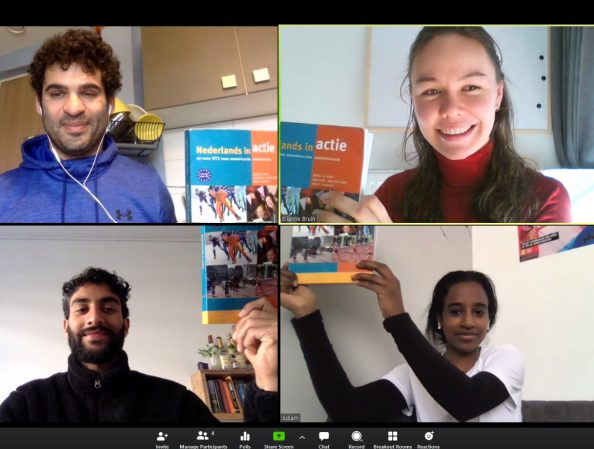 Who are you? Why do you do this job?
Hello! My name is Elianne and I love teaching Dutch, because of the smiles on the faces of my students when they tell me they have successfully ordered their first coffee in Dutch, or attended their first Dutch meeting. Personally I am also crazy about learning languages, from Arabic to Icelandic, and since I have become a teacher I have discovered that there is a lot more to the Dutch language than I thought there was… I too learn something new about Dutch every day!
A secret about you 😉
I love knitting! You might see me wearing my own woollen socks in class.
This summer you will give lessons in Dutch Summer Immersions, what is a typical lesson like?
As you know, we Dutch people always talk about the weather. But apart from talking about the many different words for rain I like to focus on positive achievements. That means I often ask my students what they are proud of, what they were surprised about they could understand in Dutch, or what their dreams for the future are. Of course we also do grammar and exercises, and I find it important that there is a lot of room for questions. I love it when students bring language problems to class, like "I read this sign somewhere, what does that mean?".
Which part of the lesson do you like best?
This is a hard question! I know that one of the moments I really like in a course is the reflection at the end: what have we done, what have you learned so far, how would you like to continue? Students always have their own personal success stories to share.
How is it possible to keep focused during these long lessons?
Attention always comes and goes, for the students as well as for the teachers. I hope that by alternating reading, writing, speaking and listening, and also by practising these things in a playful way, we can stay interested and keep learning new things until it is time for the well-deserved coffee break.
Why is it a good idea to take a summer immersion course?
A couple of years ago I did an intensive summer course in Reykjavík, Iceland. The teacher would not stop speaking Icelandic and after the first day I felt exhausted. The second day during the break we discussed whether she could speak any English at all, and how we were going to survive this. On the third day, however, I started to understand some of the things she was saying, and I didn't mind the lack of English. After four weeks the whole group had reached A2 level, and the teacher turned out to be fluent in English. I will never forget that. This is what an intensive summer course can do, and I am very happy to be able to be part of this process once again, but now as a teacher.