24-8-2021
From September, our location at Tweede Schinkelstraat won't be just a place where you can improve your language skills, but also where you can taste the best Brazilian salgados (snacks). We're very excited to announce our new roommates: Manda Brasa, the food business of our (former) Dutch students Bartolomeu and his partner Hannah!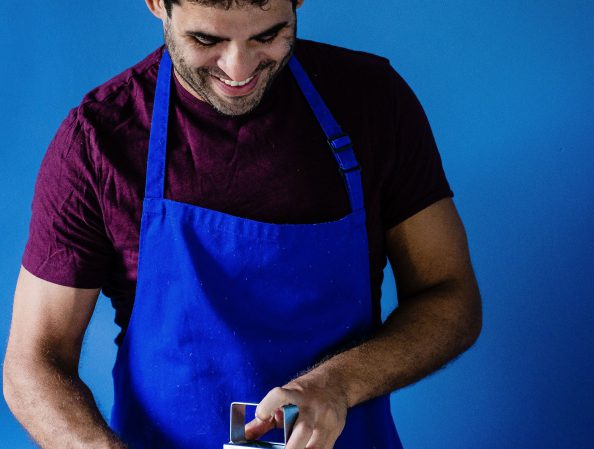 Serving snacks like pão de queijo (cheese bread), coxinha (Brazilian bitterbal), empada (small pie) and brigadeiro (chocolate truffle), Manda Brasa is all about creating an experience, Bartolomeu tells. "Whether it's Brazilians coming to the table because they miss the food and comradery from their home country, or internationals curious about discovering a new cuisine, the one common theme is celebrating where I'm from and creating a space for others to do the same."
Bartolomeu comes from the city of Belo Horizonte, a place where people deeply appreciate the culinary traditions of their ancestors. And so does he. As a child he often watched with awe as his mother – "an amazing cook" – prepared the best dishes. "One of my favorite recipes of hers is called biscoito de polvilho, a very traditional Brazilian biscuit from my region. I often helped her in the kitchen while she prepared it, and watching our friends and family enjoy something we had created made me feel extremely satisfied."
After moving to the Netherlands, Bartolomeu felt a strong desire to become part of Dutch society and thought that cooking was the best way to do so. He started to see cooking as a way to both stay true to his roots, while also establishing a foundation in his new country. Each recipe is based on one of his favorite Brazilian dishes, with the addition of Dutch ingredients – the pão de queijo is made with "oude kaas from the farm down the street", for example.
The name manda brasa literally means 'light it up', referring to the famous Brazilian barbecue grills, but is used in a variety of situations to mean 'let's get going' or 'just do it'. Bartolomeu chose the name because of the desire he and his partner had to make a Brazilian snack business a reality for so long. "It was also a chance for us to put certain initiatives into practice in a real way, like our ideas about sustainability and local collaboration."
Did all those salgados already make your mouth water? Come and visit us at Tweede Schinkelstraat 26!
Opening hours:
Tuesday: 14.00-19.00
Wednesday: 10.00-15.00
Thursday: 14.00-19.00
Friday: 10.00-15.00