17-5-2021
A talk about learning Greek between our student Janneke (in Alexandros' C1 group) and Myrte (Greek teacher and eternal Greek learner). Here's the English written version of the interview, but scroll down for the video to admire Janneke's beautiful Greek!
You've been learning Greek for many years!
For 7 years now, and 5 with Taalhuis Amsterdam.
Why are you learning Greek? 
I like Greece and I like hiking in Greece. When I go hiking I usually stay in small villages, in small pensions (ξενώνες). Many times no one speaks English, but I wanted and felt the necessity to speak with the people, to open a conversation, to hear about their lives and what's going on in their village.
How has learning Greek changed your life? 
Haha, well, yes it has changed. Now that I know the language, it gives me self-confidence. Greece is a different country, life is different, the habits are different. I usually walk alone in a foreign environment, but I'm not afraid, because I can talk to people!
This self-confidence also helped me to write emails to people in Greece. I have friendships with people from Lesbos, I went to their house and they came to my house. This was very special.
Language opens our hearts!
Do you have a favourite word in Greek?
I had various, but now it's the verb 'προσανατολίζω'. Why? Because when I understood the two parts of the verb I suddenly understood the Dutch word! 'Ανατολή' means 'orient' (προσανατολίζω = 'orienteren' in Dutch).
Did you ever have misunderstandings (μπέρδεμα) because of a mistake you made?
I was collecting olives during a holiday 5 years ago. It was on the island of Kythira in a house on a hill. I could see very far so I said "Πολύ ωραία θεία!" and all these women turned to me with a very strange look in their eyes. I realised I should have said "θέα" (view) instead of "θεία" (aunt)!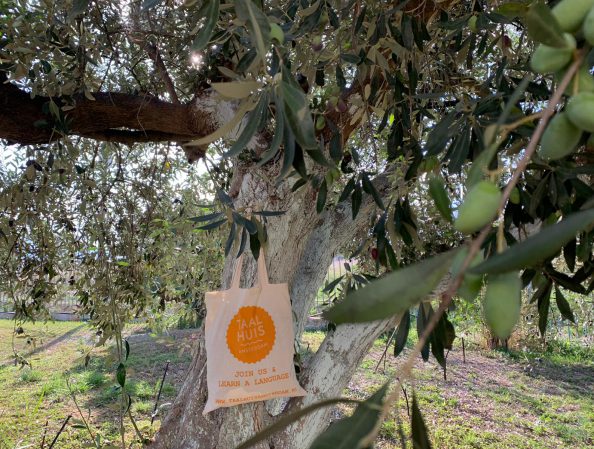 What would you like to achieve in your Greek 'career'?
When I started learning Greek, I knew it was going to be a long journey. For me it's most important to keep enjoying learning and using Greek.  And it's important to learn things, for your head!
Is there anything that you find special about the Taalhuis lessons?
I find the lessons personal. The small groups, teachers who never stop bringing extra ideas and input. In my group we're now reading a 'police' book for example, chapter by chapter. I feel that Taalhuis believes in the value of language!
Is there something that you find difficult?
Something? There's nothing that I DON'T find difficult. The most difficult thing for me is talking, to use the right verb conjugation. But I decided something: it doesn't matter that I make mistakes. We laugh while making mistakes! I don't hesitate, 'απλώς μιλάω' (=I just talk), just like now!