21-2-2021
Today is Unesco's International Mother Language Day and we asked a few of our teachers who are also mothers to share a story about the language they speak with their children.
On the picture above little Lounes with his mother Tato:
"Mijn dochtertje Masilya vroeg zich laatst af of ze een meisje is of een aghjik. Dat laatste is hetzelfde als 'meisje,' maar dan in het Armeens, de taal die ik van mijn moeder heb geleerd. Nederlands is net zo natuurlijk voor mij, maar toen ik zelf moeder werd en tegen mijn baby wilde praten en zingen, diende alleen Armeens zich aan als kandidaat. Voor Masilya is de ene taal 'praten als mama' en de andere 'praten als papa'. Soms zijn deze twee dingen gescheiden ("Dit is een aardappel, en mama zegt kartofil"), soms is er interferentie ("Ik heb mijn jas gekaht" – kahel betekent ophangen).
We zagen aan haar gezicht dat ze een antwoord had gevonden. "Ik ben een meisje. En een aghjik!" Ze had zo'n schattige glimlach toen ze dat zei, dat haar vader zei: "Ik ga je opeten, Masilya!" Waarop zij serieus antwoordde: "Papa, ik ben een meisje… en een aghjik. Ik ben geen taartje.""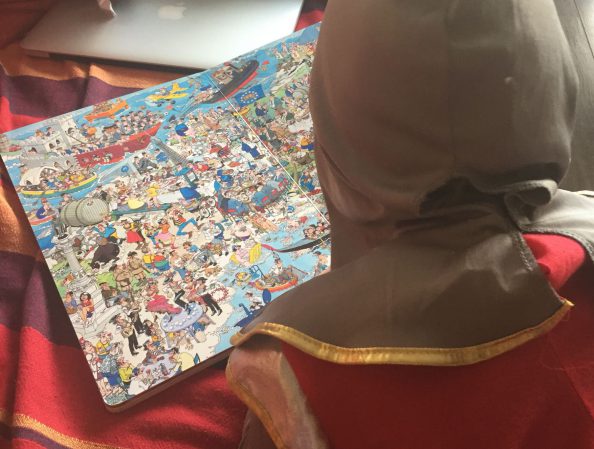 Our Italian teacher Marzia: "We are both Italian and we only speak Italian to our children. Dario (dressed as a medieval warrior in the picture above), the eldest, is now 3,5 years old and he only speaks Italian at home with us and Dutch at the crèche and with his 'kleine vriendjes'. So no alarm and no surprises. But. I come from the south – from the 'southest', in fact: I come from Sicily – and my husband comes from the northern part of the country, Emilia-Romagna. We both have strong linguistic roots, to say the least, so I have always wondered which inflection would prevail in our son: the southern or the northern? Well, guess what… both of them! Dario doubles up some consonants at the beginning of the world (the r especially!) as I do, and he has a very sounding s and a very thin e and o as my husband has. It's very funny to hear. I wonder what will happen with Achille, who is just 6 months old… I am curious. I love the fact that our children will grow up having such diverse backgrounds: they will have more places to call home."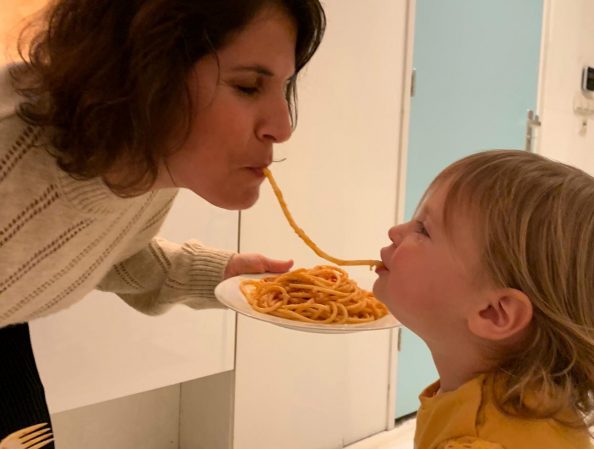 And our (also Italian) Francesca: "I come from Sardinia (Italy) and my daughter was born in The Netherlands, she is 3 years old and speaks Italian and Dutch.
The link between mother and daughter is like a red wire that goes deep into your belly. Just like the red wire that connects me to my mother and my grandmother, the connection is rooted in our hearts and finds its expression in the way we communicate. I could not speak to my daughter, Meera, in any other way than my native language Italian: the language that connects me to generations and generations before me and that expresses all of my emotions. To be completely honest though, sometimes I also speak Sardinian to her, especially when saying something funny or when urging her to stop or to do something. So she knows perfectly well words like 'accabbadda' (stop it) or 'caddozza' (dirty) and 'ayò!' (come on). I guess Sardinian also has a special place in my heart."