1-12-2021
Back in 2014, Taalhuis Amsterdam probably was the smallest language school in the city. Located at Sint Nicolaasstraat 59 near Dam square, there was so little space that co-founder Myrte also had to schedule some of the lessons in her own house, at the opposite side of the street. Seven years later Taalhuis has grown into a bigger school with locations at Muiderstraat, Rapenburgerstraat and Tweede Schinkelstraat as well – and the online environment, if that counts. The Dam location is still known as 'het kleine Taalhuis'.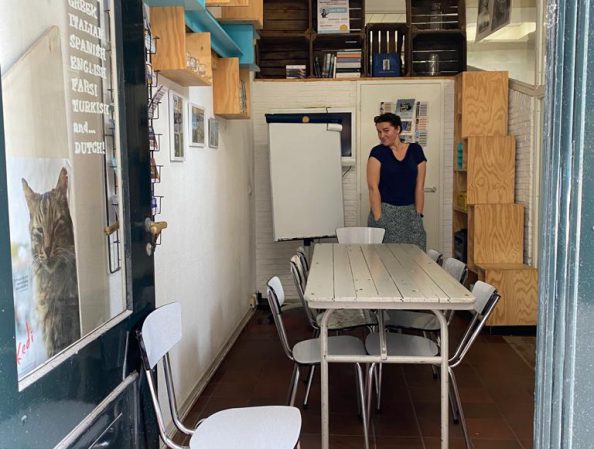 When visiting this location, you might notice a little sculpture on the wall. It's Sint Nicolaas himself, with a boat full of seafarers on his lap. Sinterklaas, the legendary figure who gives presents and candy to children, is based on this saint. But who is this Sint Nicolaas really, and does this ship have anything to do with the steamboat Sinterklaas uses each year to come to the Netherlands?
Sint Nicolaas van Myra
Born around 270, Sint Nicolaas van Myra (or Saint Nicholas) was an early Christian bishop from Myra, a maritime city in what nowadays would be called Turkey. He was the patron saint of children, prisoners and innocent convicts, but also of sailors, boatmen, shipbuilders and fishermen, among others. It's no coincidence that many port cities have Sint Nicolaas as their patron saint, like Amsterdam, Bari and, perhaps not a big surprise: Sint-Niklaas in Belgium.
This is also the reason why the Sint Nicolaas in the Sint Nicolaasstraat is holding a ship: he is protecting the sailors, who are frightened they won't survive the rough sea. The sculpture was made by the Dutch sculptor Ton Mooy. He was inspired by an artwork of the Italian painter Gentile da Fabriano (1370-1437), that shows a sailing ship in distress. The sail is torn and the crew is in a panic, but in a miraculous light, Sint Nicolaas appears and saves them from death.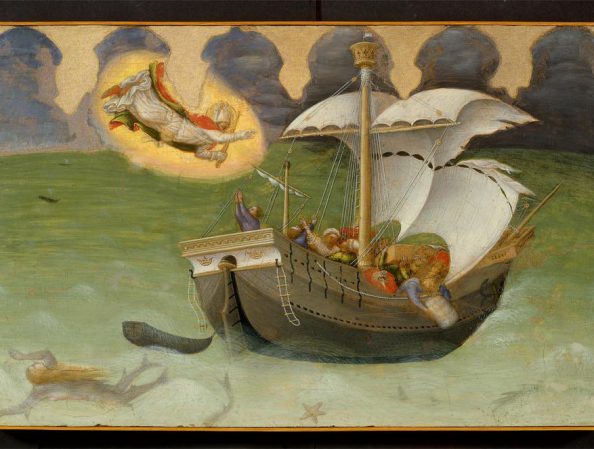 Little is known about Sint Nicolaas, because most accounts of his life were first told orally and written down long after his death. However, one of the most famous stories from the Vita per Michaelem, his oldest preserved biography, is particularly interesting with the modern feast of Sinterklaas in mind.
The origins of modern Sinterklaas traditions
Once there was a very poor man who had three daughters, and because in those days the father was expected to offer the future husband something of value, it was likely that they would never marry and end up into slavery. But when the poor man woke up one morning, he saw that a bag with money was thrown into his house through his windows. The next morning it happened again, and because he wanted to express his gratitude, the man stayed up the third night. After another bag was thrown in he went after the anonymous giver, and he found out it was Sint Nicolaas.
Sint Nicolaas reportedly didn't want to appear to the man in person because he didn't want him to feel ashamed, and at the same time he didn't want to brag about his own charity.
The modern feast of Sinterklaas is celebrated with the giving of gifts on 5 December: pakjesavond. It's still common that 'Sinterklaas' (or daddy, who 'had to go to the shed for a second') puts down a bag of presents in front of the door, rings the bell and disappears as fast as he can. And when Sinterklaas arrives somewhere with his pieten, they usually throw around chocolate coins – just like Sint Nicolaas threw his bag of coins through the window.
In the weeks before pakjesavond, Sinterklaas is said to ride his white horse over the rooftops at night, delivering gifts to children through the chimney – if they've behaved well. Before bedtime, children put their shoes next to the fireplace (or more likely nowadays: in front of the stove). They leave a carrot for Sinterklaas' horse in the shoe and sing some Sinterklaas songs. Then hopefully, they will find something in their shoes the next morning.
Blog by Dutch teacher Yoran.