23-2-2021
The online classroom – what's it like?
Students are often unsure about what to expect of an online language course and the online classroom. Will it keep me motivated? Is it interactive? How will I get to know the other students? Is there enough time for questions? For almost a year now, most of our courses and events have been online. In the beginning, it was all new and sometimes challenging, but we're happy to say that we're getting used to it. Of course, it is more 'gezellig' to meet your classmates in person and to get out of the house for a change, but online classes have their perks too!
To give you an idea about what to expect from an online lesson, we sent Gisela to the Dutch A-1.2 class taught by Johannes and asked her to write a blog about it!
Schaatsen
It's Wednesday, 11:30. I already did some work, walked my dog, made a nice cup of coffee and now I'm ready for class! I open the Zoom-meeting and 'enter the room'; Johannes is already there, together with the first four of the students. Not everyone is in yet, so we do a bit of catching up while we wait for the others. Johannes starts by asking everyone what they've been up to last week. 'Hoe was jullie week?', 'Is er iets bijzonders gebeurd?', 'Hebben jullie geschaatst?'. After the snowy weekend that lies behind us, it's no surprise that ice, snow and ice-skating are the main topics of discussion.
Let's begin!
The group is complete, which means that I get a sneak-peek into eight different homes, but more importantly, it's the last lesson of the course, so it's time to look back on what we've learnt in the past weeks. Johannes separates the group into different 'break out rooms' to discuss the subjects of the past weeks in a smaller group. I'm placed in a group with two other students, and they tell me all the things they've learnt. Then, everyone returns to the 'main room' where we talk about the subjects together; grammar rules, but also things like going shopping or visiting the real estate agent. The students have learnt a lot, and Johannes is proud of his students!
The final exam
The end of the course can't go without a final exam. The students got to complete the exam as their homework assignment. How did everyone manage? Again, the group is separated into smaller groups to talk about how it went, and to review their answers. Every few minutes, Johannes pops in to see how we're doing, checking if we came across any difficulties and sometimes urging us to speed things up a little. After a while, everyone returns to the main room to ask questions and discuss the different possible answers to the questions of the exam. Important vocabulary is noted in 'the chat'. For grammar explanations and visualising topics, Johannes uses the online whiteboard. We switch between the breakout rooms and the main room a couple of times more until we've covered all the questions.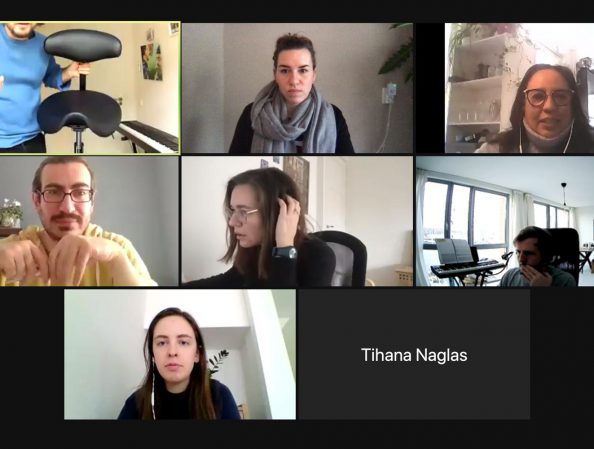 Time for some roleplay
The second part of the class is all about what to say in different social situations. How do you explain the type of house you're looking for, what to say when you're going clothes shopping, and some other 'typical Dutch' situations like how to respond when the doctor sends you home with only a few paracetamols, or how to react when the bicycle repair guy tries to rip you off. Very practical . Then it's time for some roleplay and improvisation! We go into the breakout rooms again and put our efforts into virtually creating the most interesting situations. The groups switch around a couple of times so that everyone gets the chance to talk to different partners and about a range of topics. After about fifteen minutes everyone returns to the main room, where we tell each other what we spoke about and how we handled the sometimes challenging and often funny situations.
And then it's 13:00, which means that it's time to go. That went fast! Johannes thanks his students for their effort in the past weeks and invites everyone to the follow-up course that starts in in two weeks. But first it's time to enjoy a week off. 'Fijne vakantie!'