22-7-2020
Summer is a great time to travel or even just to go outside and explore your neighborhoods! And you can combine this activity with getting a free course at Taalhuis!
How?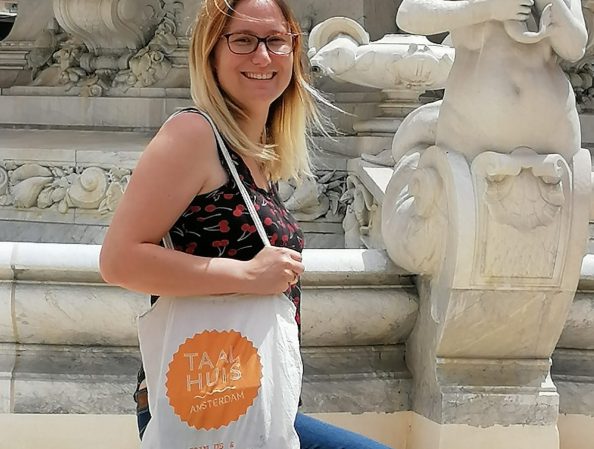 1. Take a picture with a Taalhuis bag (like our beautiful model Jessika did in France!).
2. Post it on Instagram or Facebook before 30 August and tag Taalhuis (@taalhuis).
3. Add the hashtag #taalhuisbag  to the caption of the photo and say that you want to win a free language course (and add a description of the photo if you'd like to tell us more).
4. Follow our account on Facebook and/ or Instagram.
If you don't have a Taalhuis' bag yet:
– Pass by our location in Muiderstraat 24 on Tuesdays from 10:30 till 18:00 and get your own bag!
– Or send us your postal address at info@taalhuisamsterdam.nl with the subject line "Taalhuis bag" and we'll send it via PostNL for €4.95 within 5 working days!
We'll choose the most creative picture on the 1st of September! Please note that your account has to be open until the 1st of September so we can see your photo! You can post as many pictures as you like 🙂
The winner will get a free course at Taalhuis (worth up to €295,-) and can register for a free course until the end of 2020. We offer offline and online courses, so it's not necessary to live in Amsterdam!
Ready, steady, shoot!