3-3-2021
Recently we started with monthly baking sessions to have something nice to do during your evenings at home, while learning new vocabulary in, for example, Dutch or Italian. Our motto: "When life gives you avondklok (curfew), become an avondkok (evening chef)!"
Last Saturday we made classic Dutch appeltaart (apple pie). In the photo above you can see some beautiful results!
Appeltaart
What better way to learn how to make this special deeg (dough) and vulling (filling) than using a very old recept (recipe) from my childhood, originating from the 'Kookboek voor kinderen' (Cookbook for children).
The original recipe for Dutch appeltaart, however, is much older than the '80s. The oldest known written recipe dates from around 1514 and is found in the old Dutch text 'Notabel Boecxken van Cokerye' (Notable book for cooking). In the centuries that followed it became more common to add various spices to the recipe, which explains the important ingredient kaneel (cinnamon). Another old recipe describes the preparation as follows (in old Dutch, but see if you can understand…)
"Om een appeltaerte te maecken:
Maeckt u Deech, capt u Appelen cleijne, doetse in een schotel, strooijter wel Suijcker, Caneel, ende Ghijnebeer op, met wat Rooswaters, mengelet wel tsamen onder de Appelen, legtg dese spijse in u Deech, steeckt hier ende daer, tusschen u spijse een stucxken versche Boters, leght het scheel daer op, ende backet in de panne als een Spenage-taerte, als sij nu ghenoech ghebacken is, soo stroijter Suijcker, ende Caneel op. Ghij meucht oock Venckelzaet, ende Corinten in des Taerte doen."
Appeltaart is still very popular in the Netherlands and served in many restaurants or at home as verjaardagstaart (birthday cake). So if you've missed the workshop or wish to make appeltaart again, here's the recipe and some tricks to impress your guests next time!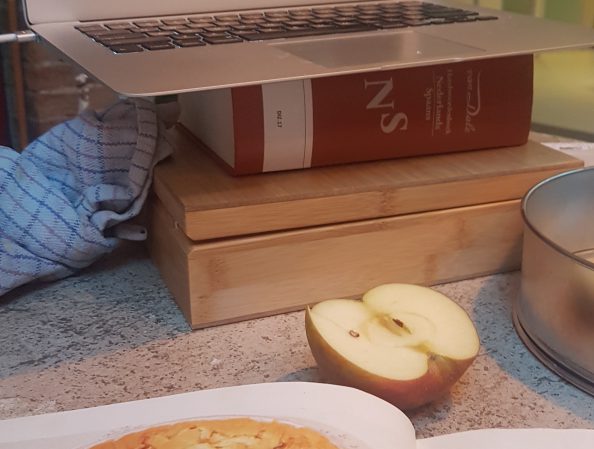 Ingrediënten (ingredients)
– 150 gr boter (butter)
– 120 + 25 gr suiker (sugar)
– 250 gr bloem (flower)
– 1 ei (egg)
– 50 gr rozijnen (raisins)
– 1 zakje vanillesuiker (sachet of vanilla sugar)
– 500 gr zure appels (sour apples)
– 2 eetlepels kaneel (table spoons of cinnamon)
– 1/2 citroen (lemon)
–  slagroom (whipped cream)
And you need a springvorm 20/24 cm (baking mold).
Bereiding
Verwarm de oven voor op 150 graden en boter de bakvorm in. Kneed met de hand de bloem, boter, suiker en helft van het losgeklopte ei in een kom tot een mooie egale bal deeg. Houd 1/4 van het deeg apart voor de versiering. Gebruik de rest van het deeg om de bakvorm te bekleden.
Schil en snijd de appels in blokjes van ongeveer 3 centimeter. Doe ze in een aparte kom en meng met de rozijnen, vanillesuiker, kaneel en uitgeknepen halve citroen. Verdeel de vulling over het deeg in de bakvorm.
Maak van het achtergehouden stuk deeg smalle repen en leg deze kruislings over de vulling heen, zodat je een raster krijgt van slierten. Gebruik de andere helft van het losgeklopte ei om de slierten (dun) mee te bestrijken.
Bak de appeltaart in ongeveer 50 minuten goudbruin. Serveer met een toefje slagroom erbij!
Preparation
Preheat the oven to 150 degrees and butter the baking mold. Knead (by hand) the flour, butter, sugar and 1/2 of the beaten egg in a bowl into a nice smooth ball of dough. Set aside 1/4 of the dough for decoration. Use the rest of the dough to line the baking mold.
Peel the apples and cut them into 3 cm cubes. Put them in a separate bowl and mix with the raisins, vanilla sugar, cinnamon and squeezed (half) lemon. Divide the filling over the dough in the baking mold.
Take the leftover piece of dough and make 2 cm strips / 'snakes' and place them crosswise over the filling so that you get a grid. Use the other half of the egg to cover the strips with a thin layer of egg, so it will become shiny.
Place the apple pie into the oven for about 50 minutes (until it's golden brown). Serve with a dash of whipped cream!
Have a look at the results of this workshop's students!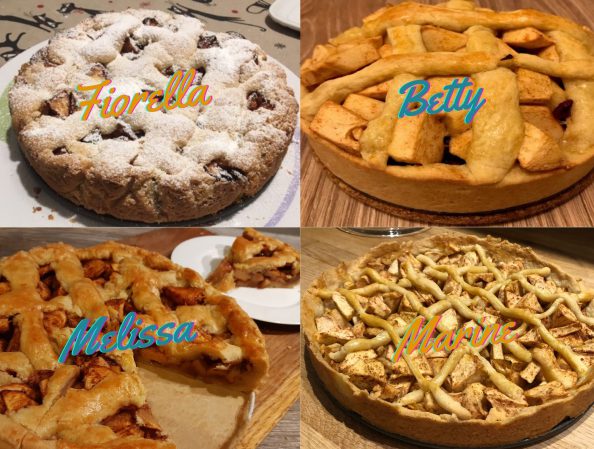 This blog was written by Neeltje.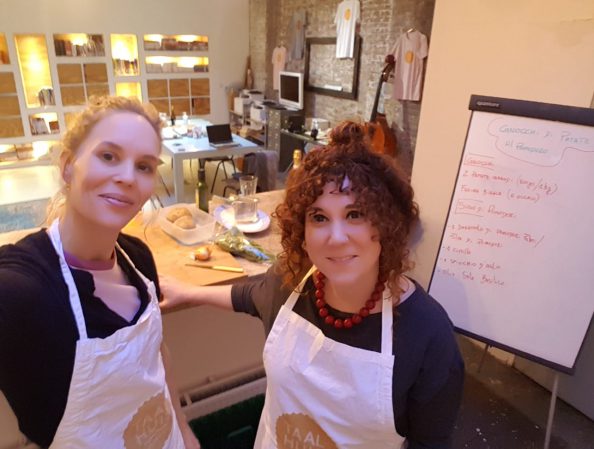 Ready for another baking session? Join our tiramisù workshop Saturday 6 March and improve your Italian vocabulary at the same time!