19-1-2023
Today is a special day: Taalhuis Amsterdam's tenth birthday! On 13 January 2013, it all started. We asked Myrte – who founded the school together with Angeliki, back in the day – what happened over the past ten years.
How did Taalhuis start, ten years ago?
The idea started at the kitchen table. In January 2013, we started with a Greek class and a class 'Dutch for Greeks'. Both groups had five students. We created a Facebook page and a flyer about our Dutch and Greek lessons and our language trip to Naxos. That flyer was at Albert Heijn, our local supermarket, on the Elandsgracht. It was a special moment when our first registration form came in from Jacqueline, who had found the flyer at Albert Heijn. She originally wanted to learn Spanish, but the Greek lessons were closer to home, so she decided to take that course instead and became our first student. Then, in the first year and still at the Claverhuis (the community centre), we also started Italian courses. From the beginning, the intention was that Amsterdam needed a house for mediterranean languages.
Those first groups wanted to continue their lessons, so we started a course on the next level and a new course for beginners, which meant that we needed more space. Across the street from my home in the Sint Nicolaasstraat was a teeny tiny room available – a table and six chairs, just enough for our classes – that we started to rent. It used to be storage space for DVDs, so it was completely full and there was a lot of work to do. While we were painting the walls, our first Spanish teacher, Alberto, came by for a job interview and he instantly became a part of the family. There are still students from that very first Spanish course in our C1-courses now.
Gradually, Taalhuis kept growing like this – we started to teach lessons in the sewing workshop next door (now a Greek supermarket, Bakaliko) and across the street at my kitchen table. Later, Arabic courses were added, and new levels with each new round of courses. 'Dutch for Greeks' became 'Dutch for internationals', which has become our largest department.
A year later, we found a new location on Muiderstraat – very fitting with mediterranean floor tiles – which is now mainly our 'main office' and bookstore by day, two classrooms in the evening. More languages, more levels, more colleagues and more locations were added throughout the years. In 2018, we 'adopted' a large Italian family when we merged with the Italian language school Studiolingua. Again, extra space was needed, which we eventually found at Tweede Schinkelstraat.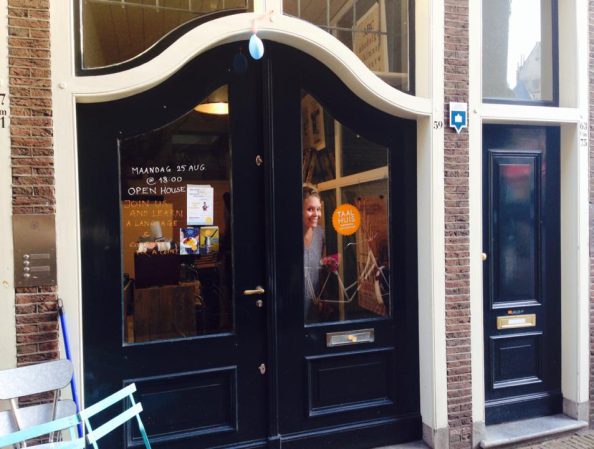 The 'Kleine Taalhuis' ('small language house') at Sint Nicolaasstraat. 
What has changed over the past ten years and what has remained the same?
What hasn't changed is that we still have relatively small groups and that we've always stayed a house in some way, as if you're having classes at a kitchen table. What has changed is that, of course, we have more colleagues and students now and we've grown more and more. We've also further developed our didactical approach and we keep working on better implementing the CEFR levels and official exams. Additionally, book clubs and cultural courses are now a part of our standard schedule as well. In this process, the exchange between colleagues is incredibly valuable, because foreign language education is so different across countries, so our colleagues from various countries bring a broad spectrum of knowledge and experience that enables us to learn a lot from each other.
It's been a very international place from the beginning, not just in terms of teachers, but also students: for example Spaniards who learn Arabic or Greeks who are taking Italian classes. This makes it even easier for us to keep using the target language (the language that students are learning), because the groups include people with different native languages, and the main thing that they share is, first and foremost, the language that they want to learn.
More and more events have been added to our curriculum, like our annual lecture series About Ancient Languages and trips to Egypt, Spain, Greece and more. And we've found some valuable collaborations, for example with the ASKV and the Dutch Institute in Athens.
How do you envision the coming decade?
I just really hope that we can keep spreading these wonderful languages and cultures in this wonderful city! In the core, this place always revolves around learning and connecting and I really want to maintain that. I hope that we can keep offering something to learn for all students, including those on higher levels who have been taking lessons with us for a long time – courses about literature, art, cooking, et cetera.
By now, we've incorporated all the main languages that are spoken around the Mediterranean Sea (and a small excursion to Farsi), but I'm very happy that we'll be shedding some light on Kurdish, Riffian, Basque, many Italic languages, Cypriot Greek and Maltese in this year's lecture series About Spoken Languages.
Our modest system of built-in crowdfunding, where paying students can opt to add an extra donation on top of their course fee, thereby enabling students who can't afford lessons themselves to get a spot in a language course anyway, is something I really love. It's amazing that people want to contribute to this and make it possible that our doors can stay open for everyone and be opened even further.
I like seeing that multilingualism is becoming more well-known and that people are appreciating the value and the enrichment of learning and knowing multiple languages. That's why I hope that we can expand our courses for children. It's fantastic how internationals in The Netherlands are making an effort to learn Dutch, but I think it's at least as fantastic how Dutch people are learning the language of their neighbours, colleagues, friends, partners, employers or favourite holiday destination.
I'm very grateful and happy that we're here, that we've reached this point and that we're allowed to dream about the future of this wonderful institute. All our colleagues and students are incredibly involved and it really feels like everyone is carrying part of the responsibility for this product that we all love so much.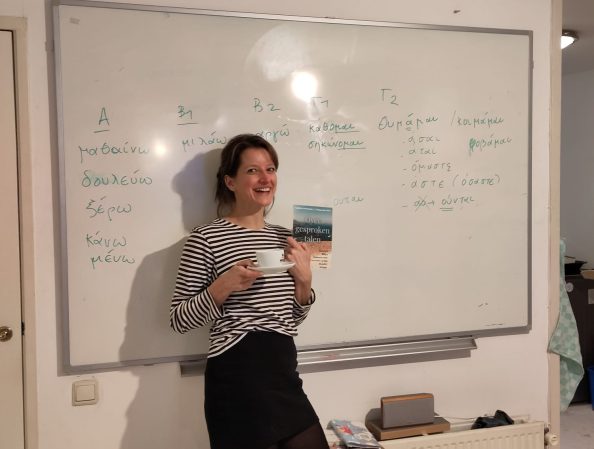 Interview by Lieke. Photo in the header edited by Jaap.